How well does your child see? Vision is extremely important for children. It's what lets them develop motor skills, see the board at school and learn about the world around them. If your child hasn't had an eye appointment or it's been a couple years since your child's last eye health and vision exam with our optometrist, you may want to consider scheduling an appointment at Gallup Eye Group.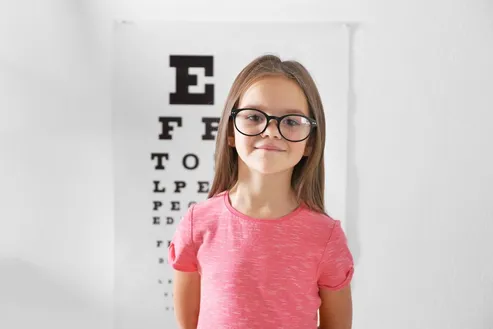 Common Childhood Eye Problems
Children often do not realize that they cannot see well because they do not have a way to compare their vision with normal visual acuity. Therefore, it is very important to have your child visit Drs. McGraw to determine if your child's eyes are developing normally and if they can see clearly.
REFRACTIVE ERROR - INABILITY TO CORRECTLY FOCUS
Myopia (nearsightedness)
Hyperopia (farsightedness)
Astigmatism (eyeball has an oval shape)
Anisometropia (eyes have different refractive errors)

Signs/symptoms: Blurry vision, Eye strain, Headaches
AMBLYOPIA - DECREASED VISION IN ONE OR BOTH EYES DUE TO A HIGH REFRACTIVE ERROR, STRABISMUS AND/OR FORM DEPRIVATION
Unilateral (one eye is weak)
Bilateral (both eyes are weak)

Signs/symptoms: Poor vision in affected eye(s)
STRABISMUS - MISALIGNMENT OF THE EYES
Esotropia (eye deviates inward [towards each other])
Exotropia (eye deviates outward [away from each other])
Hypertropia (eye deviates upward)
Hypotropia (eye deviates downward)
Signs/symptoms: Crossed eyes, Squinting or drifting eye, Double vision, Poor depth perception
AOA recommended examination frequency for pediatric patients
Examination interval

Patient age (years)

Asymptomatic/low risk

At-risk

Birth through 2
At 6 to 12 months of age
At 6 to 12 months of age or as recommended
3 through 5
At least once between 3 and 5 years of age
At least once between 3 and 5 years of age or as recommended
6 through 20
Before first grade and annually thereafter
Before first grade and annually, or as recommended thereafter
Childhood eye exams can find eye problems early so that they can be corrected before they affect your child's ability to develop hand/eye coordination, learn, and read. Children should have their first eye exam at our office between six and twelve months old. This exam checks for major eye turns, glasses prescriptions, or anatomy abnormalities that would prevent normal development. Your child's next exam should be scheduled before preschool to assure they won't fall behind in learning due to uncorrected vision needs. Remember: your child may not complain. They may assume the world is supposed to look unfocused since that's all they've known. As children grow, their eyes can grow as well. Annual exams are recommended until at least 18 so we can monitor for eye changes and prescription changes.

To schedule your child's next comprehensive eye exam with Drs. McGraw to check for vision and eye health and movement problems, call us today at (505) 339-2015.